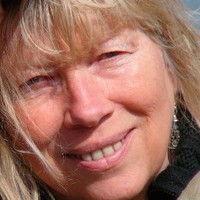 Christine has had a passion for food photography for over 25 years. She works with both digital and analogue, in the studio and on location.
Previous clients have included Haagen Daazs, Sainsbury's, Marks & Spencer, Waitrose, Nestlé, Chambourcy, Danone and Perrier, for whom Christine has produced both stills and TV commercials. She has also taken photographs for over 20 cookery books, The Observer and Daily Telegraph newspapers, and has undertaken trips for the Sunday Times to Italy, France, The USA and India.
She has had exhibitions in Paris and London and is a member of Lensmodern - a group of world renowned photographers. She has also directed many commercials in London, Paris, Milan and Turkey through The Producers, including for Sainsbury's, McDonald's, Lea & Perrins and Nestlé through her Italian and French agents.
During a trip to Italy to photograph a cookery school, Christine produced a personal record of the trip in the form of a hand-printed book 'Flavours of Italy'. She has been working in her London studio and on location in the English countryside on a recipe book for a new restaurant. Christine is currently planning various future trips.
11 Perseverance Works
38 Kingsland Road
London E2 8DD
Tel: +44 (0) 207 739 0132